Welcome to Sydney in the summer. While we love all seasons – there are a few that are slightly more stand out from our perspective. We absolutely love summer weddings in Sydney because the abundance of flowers to choose from. It's really very electrifying getting to the market to see what the growers and wholesalers have brought to delight us with. And while we cannot control the weather
(oh how many a stunning hydrangea have been burnt!) 
we do our very best to work along side it. While it's sweltering heat outside – we're inside pouring as much love as we can into each design.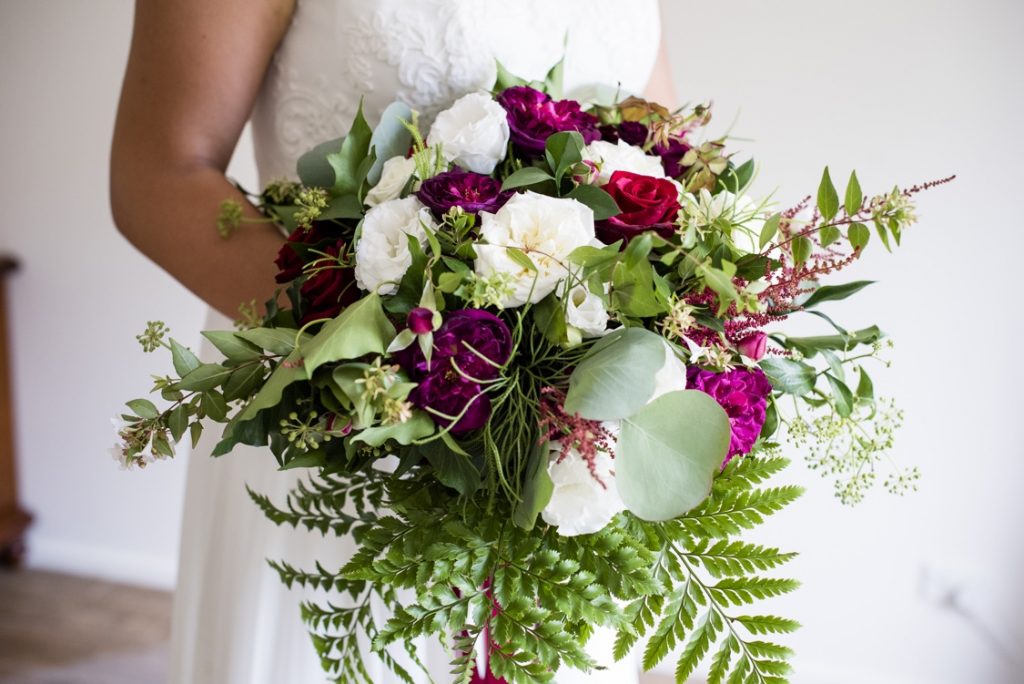 One such gorgeous summer wedding in Sydney was for the beautiful Rose + Ivan. Who were married at the St Nikola Tavelic Catholic Church in St Johns Park where the stained glass windows cast stunning colours on Rose as she was walked down the aisle. Her bouquet still remains one of my absolute favourites – it was filled with local David Austen roses that simply smelt divine.
After the church ceremony, the couple and their bridal party were whisked away by our photographer friends Mark Jay Photography to a secret inner Sydney location where they were immersed in nature for their portraits.
The wedding reception was held at Novella Function Centre – which is a great venue thanks to it's wonderful neutral colour scheme. The function room itself is also accommodating for many sized celebrations – without feeling cramped or too sparse. We decorated the reception with alternate centerpieces. Tall trees adorned with lush foliage and white orchids for half the tables, and elegant low flower arrangements for the alternating tables. The main table was hedged with matching blooms in white with lush green and flanked with pillar candles that really help set the mood.
One of the things that we really love about what we do, is that by meeting the couples that we do, we have been given access to parts of Sydney and beyond that we never thought we would venture to. It was really good to be able to stay local for this wedding – both the church and reception are within a 15minute drive from our base – so of course, the journey for the flowers wasn't too bad when the temperature got a little warm.
And of course the whole day couldn't have come together so beautifully without a few other stand out suppliers.
Rose's hair was done by Jas Anderson Hair
Make up by Sarah Marie Make up
Gown by Wendy Makin Designs from Penrith Bridal Centre
I hope you enjoy looking over the pictures as much as I do.
Have a fantastic day